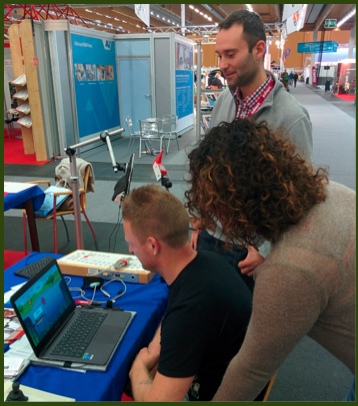 LIFEtool's educational games for people with special needs have integrated the AsTeRICS input device components. The LIFEtool applications Einkaufen (previously EURO) and FlashWords have been enhanced with AsTeRICS components so the end users can now interact with them through head movements or an additional acceleration sensor. The two applications are provided as P4A editions for free in the Unified Listing (LINK to the APPS in the UL-SAI).
Einkaufen Game is a learning tool to teach the value of money, developed by LIFEtool. Users get to know individual coins and banknotes, and they also get a feeling on how much daily life costs, such as food and everyday objects.
The Einkaufen Game (previously EURO) has been enhanced with two DeveloperSpace components: the accelerometer sensor component and the camera input module. The implementation of these additional input modalities broadens the Einkaufen Game's potential audience with no additional cost for the endusers.
"We can give our target group one extra input modality for free. There is no need for extra hardware for our customers to install they can use it from out of the box," explains Stefan Schurz, LIFEtool Researcher.
AsTeRICS v2.8 was released with the REST API and the AsTeRICS Packaging Environment (APE) as a contribution to the P4All project. APE let's you create a downsized version of the ARE and helps in license management. The ARE middleware was relicensed to a dual license (MIT or GPL with CLASSPATH exception) and the ARE and a reduced subset of plugins also runs on Linux and Mac OSX now.