Koa11y
Koa11y is a desktop app that allows you to automatically detect accessibility (a11y) issues on webpages.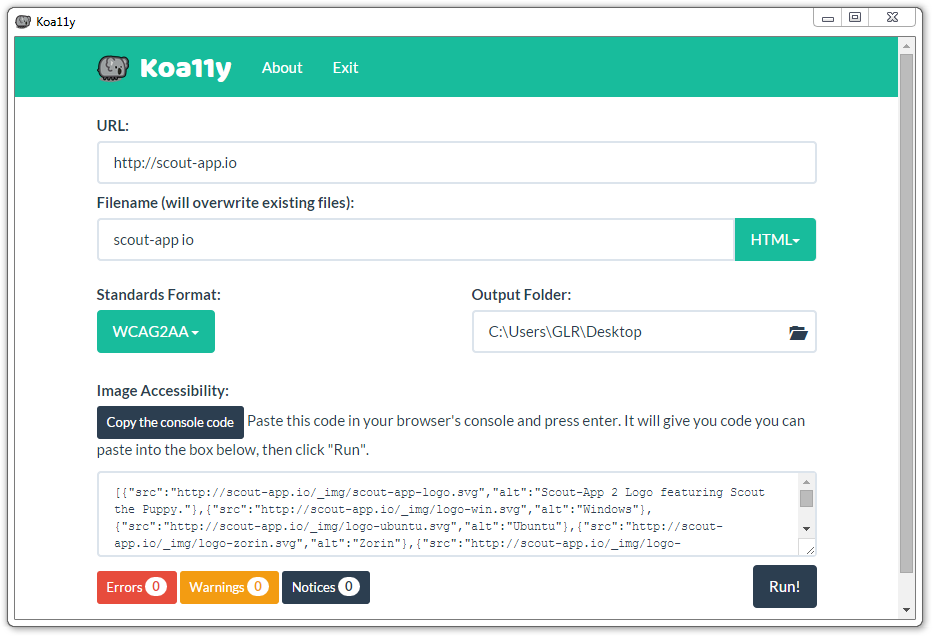 To download Koa11y, visit the website:
---
Koa11y is built with:
---
Development/Code Contributing

Koa11y is written in JavaScript, Sass, and HTML. It uses NW.js to interact with the OS and to be cross-platform.
To Open Dev Tools in Koa11y
Right-Click on the logo in the app.
To run source code locally (Win/OSX)
Install Node (V4.0.0 or above)
Download or clone this repo
Run npm install
Run npm start
To run source code locally (Ubuntu)
Download or Clone this repo and go to it in the terminal.
Update apt-get: sudo apt-get update
Install Node.js: sudo apt-get install nodejs
Install NPM: sudo apt-get install npm
Create a symbolic link for node sudo ln -s /usr/bin/nodejs /usr/bin/node
Run node -v to check if you have a version of Node that is 4.0.0 or above, if not, consult this.
Download dependencies: npm install
Run the app: npm start
If that works, then in the future you can just run npm start to run the app, the rest is all setup.