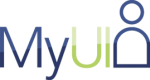 The MyUI European research project aims at increasing and mainstreaming the accessibility of every-day ICT products.
The MyUI infrastructure generates individualized user interfaces and performs adaptations to diverse user needs, devices and environmental conditions during run time.
The MyUI Development Toolkit supports industrial developers and designers to easily create self-adaptive applications.
Project website: http://www.myui.eu